Membranes in Focus
You want to investigate membrane related events and need a free standing lipid bilayer? The traditional vertical approach is of limited use because you need primarily optical information and employ microscopy? You still need access to both sides of the membrane to change media and apply effectors?
The good news is: Ionovation has tilted the traditional lipid bilayer to the horizontal plane. The Ionovation Explorer offers the automated generation of free standing lipid bilayers and provides access to any standard inverted microscope approach, ranging from simple light microscopy to single molecule spectroscopy techniques like FCS, TCSPC, FRET etc..
The Ionovation Explorer is a microscope add-on, it is easy to use and allows the combined use of high resolution microscopy and single molecule spectroscopy with state-of- the-art electrophysiology. The "stage unit" fits on any inverted microscope and yet offers the automated membrane generation, perfusion of both sides, and an option for temperature control and monitoring.
In combination with the pre-manufactured Ionovation ExplorerSlides the system provides a solution for both beginners and experts. The Ionovation Explorer opens the path for a countless number of new experiments.
Published applications include (but are not limited to):
Reconstituted ion channels and pores from many sources

Lipid-flip-flop

Lateral membrane organization (lipid rafts)

ligand binding directly related to ion flux

binding studies under pre-defined membrane potentials

membrane associated protein oligomerization, aggregation & tracking

various lipid compositions in user controlled model membranes

Raman spectroscopy on artificial membranes

Probe use on artificial membranes


For more detailed information please contact our scientist Dr. Roland Hemmler directly.
Roland will be happy to discuss technical specifcations and possible applications with you, without any obligation.
Related Products:
ExplorerSlide
The IonoVation Explorer Slide is an economic tool for your membrane biophysics work and allows the easy, quick, and reproducible formation of horizontal, free floating BLMs, specifically when used with the IonoVation Explorer.
pre-manufactured, individually sealed and ready for use

Designed for automated bilayer production and validation with the Ionovation Bilayer Explorer

membrane within the working distance of a high numerical aperture objective (100µm)

Low liquid volumes (100µl)

Integrated micro-channels providing fast fluid exchange of cis and trans compartments

Bilayer apertures available from 70 - 300µm (standard 120 µm)

Highest optical grade glass bottom; clear borosilicate

Suitable for all objective lenses and magnifications; air, water, and oil immersion

No autofluorescence

Biocompatible and chemically robust composite slide material

5 extra-wells for calibration or test purpose

Available also as "Thermo-Slide" in heat conducting material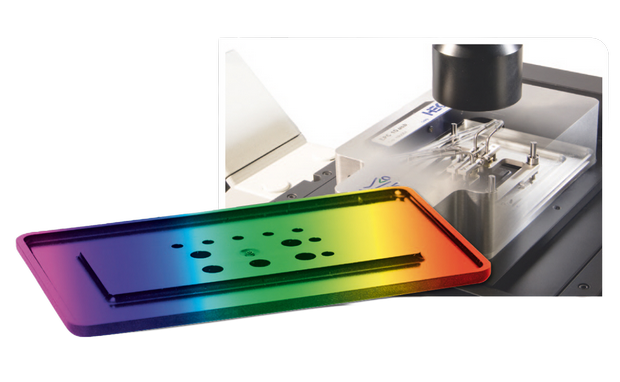 All biochemical and biophysical interactions are temperature dependent. Thus, many experiments in membrane biophysics benefit from an accurate temperature control and monitoring and this can open a whole new range of scientific insights.
Unique features are:
Run your experiment under physiological conditions

Study kinetics at different temperatures

Adapt your experiment to the melting temperature of various lipid mixtures

Study the temperature dependence of protein-protein-, protein-ligand-, and protein-lipid-interactions

slow down fast activation kinetics of ion channels

monitor changes in the diffusion time of membrane components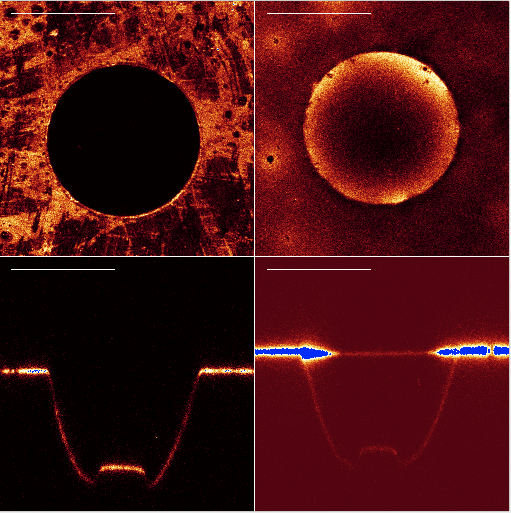 The Ionovation ThermoMaster works with the Ionovation lipid bilayer workstations. It offers full temperature control of your bilayer experiments and samples a temperature trace along with the current and voltage traces. Just place the proprietary heat frame to the corresponding chamber and mount the sensor. Select your temperature and start your experiment. Uniquely, the temperature will be taken directly from the bilayer chamber without adding noise to your current signal.
General Features
Temperature range ca. 10°C - 50°C

Proprietary, high heat conducting Thermo Slides

Low noise temperature monitoring in immediate proximity to the membrane

Live temperature recording

Automated temperature protocol options

Control via patchmaster script

Compatible with the Ionovation Explorer and the Ionovation Scout
The Ionovation Capmeter is a small and robust electronic device used to automatically generate and monitor your membranes on the Ionovation Explorer. It replaces the electrophysiology amplifier. Users who do not need to measure currents through ion channels or pores get an easy and inexpensive instrument to produce and monitor a free standing horizontal lipid bilayer on their inverted microscope.